Teeth Whitening in Thousand Oaks
Want to reveal a brighter, whiter smile to the world? Teeth whitening can completely transform the appearance of your smile…
If brushing alone were enough, everyone would have perfectly white teeth with minimal effort. Unfortunately, everyday habits and lifestyle factors can get in the way, leading to a dull, stained, and discolored smile over time. Professional teeth whitening treatments can counteract the effects of your diet and habits like smoking. But even if you don't smoke and avoid drinks like coffee, tea, and red wine, your teeth are still not immune to losing their luster. As we age, the teeth' protective enamel layer begins to thin, making them more susceptible to damage and staining. Products that you can buy at a supermarket or pharmacy can help somewhat, but over the counter whitening toothpaste and gels are not as strong and effective as professional-grade treatments available through a dentist.
Teeth Whitening with Dr. Fathi
The complete procedure takes less than an hour and begins with a preparation period followed by 45 minutes of bleaching. During the procedure, patients may comfortably watch television or listen to music. Dr. Fathi can also custom fit a tooth whitening tray to your individual dental needs. This can be done quickly and easily in your initial visit. The tray is then worn at night with the whitening gel, while you sleep, until your teeth are as bright as you want.
The Benefits of Professional Teeth Whitening Treatments
Studies have shown that damaged and stained teeth are the feature that most people report feeling the most embarrassed and insecure about. And unfortunately, it can't be chalked up to personal paranoia. People with whiter, stain-free teeth are generally viewed as more confident, self-assured, and competent, which can affect everything from professional opportunities to social interactions and connections.
Teeth Whitening Process
Here at Laura Fathi, DDS the key to getting smiles several shades whiter in often just one visit has to do with the high-concentration whitening gel that we use. Whitening gels always contain an active ingredient such as hydrogen or carbamide peroxide. Over-the-counter whitening gels don't contain as high a percentage of peroxide as our in-office system because our dental team has been trained to safely and effectively apply and monitor these more powerful whitening gels. Of course, as you can imagine, this means that you'll get faster and more visible whitening results when you get teeth whitening from us.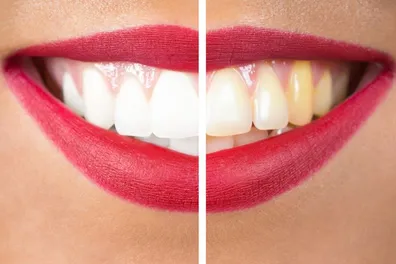 In-office teeth whitening is a simple and non-invasive cosmetic procedure. A small device will be used to prevent cheeks and lips from coming in contact with the whitening gel, which can irritate sensitive tissue. Now that the teeth are revealed, we can apply the first gel application the front surface.
Once the gel is applied over the front surface of your teeth, we will leave the gel on for several minutes. Sometimes a dental laser will be used to activate the gel and speed up the whitening process. Before you get your teeth whitening treatment we will sit down with you and discuss the steps we will take to get your smile whiter.
In most cases, we will apply, remove and reapply whitening gels two to three times throughout the course of your one-hour whitening treatment.
Some people can easily get the results they want in just one session, but those with more severe stains may benefit from multiple whitening treatments. If you want to maintain your results longer you can continue to come in for maintenance treatments once a year or ask about our at-home whitening system.
A whiter, brighter smile is just a phone call away! For more information, contact Laura Fathi, DDS by calling 805-496-6177 to schedule an appointment today!
.