Dental Implants in Thousand Oaks, CA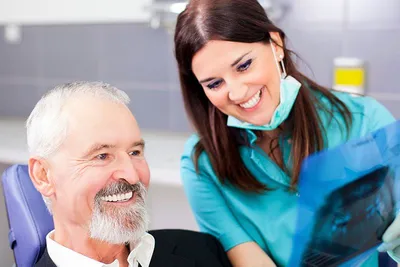 The loss of a tooth, for whatever reason, can have a traumatic effect on both the appearance and function of the teeth. Once a tooth is lost, several changes begin to occur within the mouth. Dental Implants offer a permanent solution to tooth loss as they increase biting pressure, reduce irritation and oral sores as well as enhance the aesthetic appearance of your smile.
Dental Implants uncovered…
Generally made from titanium, Dental Implants take on the role of an anchor within the mouth. Surgically inserted into the jawbone, they offer the ultimate support for replacement or prosthetic teeth.
The dental implant procedure involves multiple stages which often require waiting time in between. The stages that are involved after diagnosis of requiring a dental implant are as follows:
Stage 1: The dental implant itself (the titanium implant) will be inserted into your jaw through the gum during a surgical process. You will have anesthetic to ensure that you are comfortable throughout the procedure. Our Oral Surgeon will take the upmost care to precisely place the implant to ensure optimize integration with the jaw bone which will occur over the ensuing weeks and months. During this healing time Osseo integration will occur (as titanium is biocompatible) and your implant will be fitted with a temporary crown to ensure your appearance is maintained. You will be required to eat soft foods so that your jaw is not put under too much pressure.
Stage 2: During stage two your integration will be evaluated and your permanent dental implant crown will be installed. It will be color-matched to your teeth so that nobody will be able to tell that you've even received treatment.
Stage 3: You will be able to enjoy your stable new bite and reclaim your normal speaking and chewing patterns. Your gap will now be filled in with a durable crown and permanent titanium fixture which, with the right care, will last indefinitely.
Over a period of time after surgery, the jawbone will attach itself to the Implant. Small posts can then be affixed to the Implant, enabling replacement teeth to be permanently fastened into place.
Dental Implants with Dr. Fathi
Dental Implants enable you to recover your beautiful smile as well as the structural component of your teeth. Dr. Fathi is committed to your general well-being and provides precise post-surgical instructions to all patients. This ensures healing occurs quickly and with the very best results.
Advantages of Dental Implants
Because a dental implant feels and looks like a normal tooth, it can do wonders for a patient's self-esteem. Many people who were shy about smiling due to a space from a lost tooth feel perfectly comfortable after a dental implant. Beyond the aesthetics, a dental implant also makes it easier to eat and speak, since a titanium post secured directly in the jaw holds the implant in place. Thus, an implant doesn't come loose like a denture. Dental implants also benefit general oral health since they do not have to be anchored to other teeth, like bridges.
Dental Implant Success Rates
Dental implant success can depend on where the missing teeth are located, but the average success rate is more than 95 percent, according to the American Association of Oral and Maxillofacial Surgeons (AAOMS). Because the implant penetrates the jaw bone and gum, certain people may not be a good fit for the procedure, such as those who smoke or suffer from diabetes. Your dentist will be able to evaluate whether dental implants are right for you.
Caring for a Dental Implant
Good oral health habits are required for the implant to be a success. Teeth must be flossed and brushed, and regular dental visits should be made. If you are missing a tooth and believe a dental implant might be the right solution for you, start by consulting Dr. Fathi. Call our Thousand Oaks, CA office at (805) 496-6177!